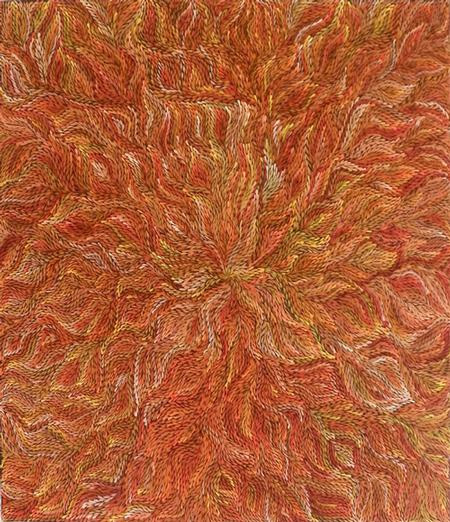 Dulcie Pula Long | Bush Medicine Leaves
| | |
| --- | --- |
| Medium | Acrylic on linen |
| Size | 149 x 149 cm |
This work represents the leaves of the Kurrajong tree used in the Utopia region to treat a variety of ailments. The women collect the leaves, dry and mix them with Kangaroo fat, in order to extract the plant's medicinal qualities. The significance of the Kurrajong tree and the part it plays in healing is celebrated in the Women's Awelye ceremonies.
Dulcie Pula Long's biography
Dulcie Pula Long is an Anmatyerre woman, born 1979 at Boundary Bore Outstation, in the Utopia regions of the Northern Territory. Being the daughter of renowned artist Jeannie Petyarre, Dulice continues the strong painting tradition of her extended family. These include Emily Kame Kngwarreye, Gloria and Kathleen Petyarre, Greeny Purvis Petyarre and the Pwerle sisters, Minnie, Emily, Galya and Molly.
Dulcie depicts the Bush Medicine Leaves story from her family's country with rhythmic strokes and vibrant colour, characteristic of Utopian artists. Bush Medicine Leaves, a common motif for her creative relatives, are the leaves plants found in and around the Utopia region. Women would collect the leaves for use in their communities to treat a variety of ailments. Dulcie paints this story with reverence to its history and with the hope that the spirit of the plants continue.
While continuing her family's tradition of painting, Dulcie also works at the local aged care facility in Utopia.